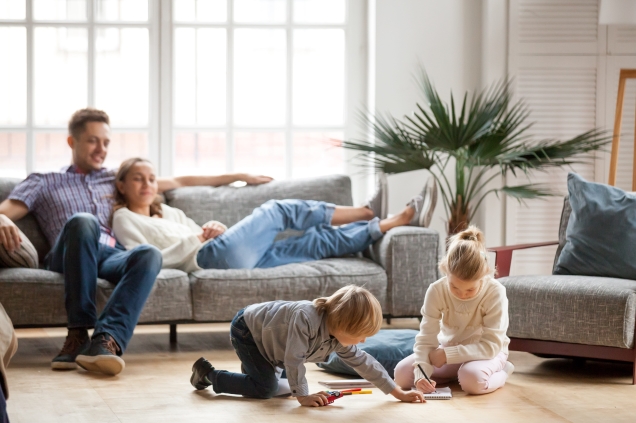 Customer Testimonials
MW Michael Witherspoon

⭐⭐⭐⭐⭐

We purchased from Design Network a high-quality linoleum for the kitchen and two bathroom areas, which was expertly installed and has drawn only positive comments from the many friends and family who have visited our home since installation.
Cathy Cooper

⭐⭐⭐⭐⭐

I love my carpet!! It is installed in a high traffic area and we are very pleased with the performance. It takes us a long time to make big expensive decisions like this one and the owners were very patient to answer many questions about durability, maintenance and warranty. They know their products. The installers were great and quick with their work.
B Alexander

⭐⭐⭐⭐⭐

From the choosing of the product to the final installation, Design Network was totally professional. Theresa gave excellent advice when choosing the flooring and tiles and the color that worked best for us. We can always count on the installers to be respectful and professional and do excellent work. Would highly recommend them!
Jacqueline Emig

⭐⭐⭐⭐⭐

I can't mention enough how pleased I am with Design Network. The home I purchased last year did not have any window treatments on the bay window in the dining room. I wanted to purchase quality window treatments so I decided to go with Hunter Douglas Honeycomb shades. I had Hunter Douglas Honeycomb shades in my previous home and never had an issue with them for well over 15 years. I had 3 places I wanted to visit and/or get a quote from that were Hunter Douglas dealers. I first went to a competitor and wanted to get a quote and then was planning on going to Design Network for a quote. I had been to Design Network years ago with a friend when her and her spouse were building a house. I also heard about them recently helping my friends in-laws with building their house here in Wichita while they were living in AZ. Design Network packed up a bunch of samples to ship to AZ so the in-laws could see excatly what they were choosing for their new home. The competitor never called me for over 3 weeks so I went to Design Network on a Thursday afternoon. At first glance, I didn't like any of the Hunter Douglas samples. Dan suggested another product that Hunter Douglas makes in their factory under another name. I really liked what I saw in the other product. Dan gave me a rough estimate on the cost of that product and a Hunter Douglas product. On Friday afternoon, Dan came out and measured and helped me find the right product for the bay windows. He brought the other product catalog and the Hunter Douglas catalog to the house and I found the perfect Hunter Douglas fabric! PERFECT! I was so excited that I decided to go ahead and do the slider door as well. Saturday morning I already had a quote. On Tuesday afternoon, I placed an order for the bay windows and slider door. Dan reminded me of a special that was going on and at first I was like nah. That night I mulled it over and decided to have the kitchen sink window done as well to make use of the rebate offer (got the shade for nearly half off). Dan was able to still add the kitchen sink to the order on Wednesday morning. The next week on Thursday, Design Network calls me to tell me the product is in already! 8 days after ordering! I'm informed they can come Saturday to install. I never even dreamed that they'd do a Saturday install! Dan came ON TIME and quickly had the window treatments in place. He instructed me how to take them down if needed; how to adjust the slider door string components; and how to adjust the level of the shades. Cleaned up everything very well too. They look AMAZING! It gives the kitchen/dining room a whole new look. Dan was a pleasure to work with. Very professional. Everything he said he would do, he did. I couldn't be more pleased! On a side note, the competitor still hasn't called me and it's been a month now. I did go to another competiter after Dan gave me a quote and got a rough quote from them and they were 15% more expensive then Design Network AND that was with a supposed 15% discount! I highly recommend Design Network for your home remodeling needs! Great people!Great price! Great product!